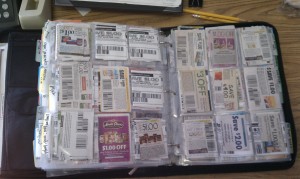 When most people refer to shopping, including the average thrifty/frugal person, they mean going into a store to exchange money for new or used items.  Shopping for me mostly refers to people's curbs & retail dumpsters.  'Shopping the trash' is an everyday, normal phrase for me, as shopping the trash is a normal, everyday activity.  When I do end up shopping & paying 'retail' prices for food & household stuff it stays pretty simple – I shop for me, my fiance (he will use toiletries salvaged from the trash/dumpster but not food), a dog & eight cats.  Sure, I've always kept an eye out in the mail or in a store for coupons & sales on stuff we always use, but that was pretty much it.   There are very few items we're brand-specific with, so I pretty much always figured the time & strategy involved with couponing wouldn't be worth it to me.   After stumbling across a few coupon-type blogs in my thrift-reading, I began to realize there were more than a few times even someone like myself could benefit from couponing.  April was a bit rainy & not-so-good for trashpicking so it gave me time to experiment with couponing.  I will say, I have spent more time in retail stores (including grocery stores) in the past month than I probably have in the past five years – no lie.  While I definitely maneuver a neighborhood on trash day better than a store, here are just a few things I learned about couponing:
It's not as time-consuming as I thought.
Really?  How so Amy?  WELL, just like there are people who like to discuss & talk about trashpicking, there are even MORE people out there wanting to share their coupon & shopping know-how.  Being thrifty & frugal when buying new items is a hell of a lot more popular than frugality through other people's trash.  Find a few blogs/newsletters that appeal to you (
Mashup Mom
,
Living Rich With Coupons
,
Budget Savvy Diva
&
Coupon Tom
have all worked out for me) and you'll find most of the strategizing is already done!  For me, the most time-consuming thing was having to temporarily retrain my brain into shopping within the store & not the dumpsters.
Set Up A Coupon Storage System That Works For You!
How you do it is up to you, but find or develop something that works for you!  Part of the reason I never paid much attention to the coupon thing was because my organizational system was lacking.  Once a coupon made it's way into my little accordian file, it never came back out until months after expiration. As I peered over a woman's shoulder at a mass merchandiser department store checking out her binder, she happily shared how she did it (….the $10 invested in Pokeman card clear binder pages easily paid for itself the first week…AND, they're Made in the USA!).  In the front of my binder, I have clear sheet protector pages tabbed for each store, where I keep the sales circular, coupon policy & any other store specific info.  I tabbed the coupon binder pages to mimic the layout of my preferred grocery store.
(yes….this works for me.)
Establish a coupon/sale/deal only email address; Facebook page; Twitter, etc.
I have a bunch of different addresses I use for my various interests as it just helps me compartmentalize better. I'm not a big facebooker, but lots of places offer good coupons & deals via facebook – some almost exclusively, so I now have an account just for that.  I was missing out on some really awesome deals because the few newsletters or store sale flyers/store only coupons I did get, were being sent to an email address I use for other stuff.   When I'm checking that account, I'm not in shopping to save mode.  Also, make sure you visit your favorite brand & store websites & sign up for their emails.
Obtain A Sunday Newspaper
Years ago, I stopped getting the newspaper because I just wasn't reading it.  The great Trashfinds coupon experiment reminded me the Sunday paper comes with lots of coupons & sales circulars.  I'm now paying more attention to stacks of newspapers by dumpsters & curbs.  Initially, it took me a minute to wrap my head around the concept to spend $2 on a paper for coupons, but if you're seeking the thrill of free or close to it items without dumpster diving, I'd say it's a wise move.
Check the sales circulars.
Ok, maybe a duh for most people, but, when you match them against coupons you have & other deals, you end up with really, really, inexpensive stuff.  Stores are competing for your business.  That's what retail is all about!  Pay attention to the rewards coupons, extra bucks, good-for-your-next-shopping-trip coupons.
Store Coupon Policies, Stacking, Double, Buy one get one, Overage & Come Back To Our Store Next Week Coupons.
Find out the stores coupon policy, or better yet, print it out & keep it in your coupon organizer.  A few of the following tidbits were kind of mind-blowing to me (and confusing 'til I grasped the concepts).  For instance, my preferred grocery store automatically doubles manufacturers coupons but only up to a dollar total (of the amount, not the coupon) – BUT – if a store totally doubles manufacturers coupons that are under a dollar, a .75 is more valuable than a $1.00, as the .75 = $1.50.   Alright, now stay with me…..  Many stores allow you to use their own store coupons in addition to a manufacturers coupon for the same item (often referred to as 'stacking').  Store having a buy one get one free sale?!?  Use a BOGO coupon & both are free (+ maybe sales tax)!  Say what?!?  And, since it's all about getting you to come back, the stores will add in whatever their version of coupons that act as money for your next visit is.  I learned, when it's advertised "spend $20 & get $10 back for your next visit", generally it's based on the pre-coupon price.  Meaning, if I use $20 in coupons, I still get $10 to come back to the store, in addition to the loot I picked up.  But wait!  Suppose your awesome coupon strategy presents you with items that cost less than what your coupon is for – what's called 'overage'?!?  Some stores will apply it toward other items in your transaction!
Brand or item, not size or amount.  Don't forget  about travel & trial sizes!
I've found this particularly useful for some of the pricier brands.  AND, unless the coupon specifies, you can even use them on clearance items!
Not something you use?  Donate it!
Even if you don't think it's something you'll use, add that coupon to your box/binder – especially if the item has a decent shelf life (in the past five days alone I found at least three instances where I could haved scored free toiletries – If I had just added the damn coupon to my binder!).  Free is free (+ sales tax, but hey, a small price for some do-gooding).  You can always donate, add to gifts or add to care packages for your cause of choice (mine happens to be sending care packages to deployed military & donating to veterans organizations) [my fiance would like to add how amazing & giving people were during his deployments, and how much it is truly appreciated].
All in all, couponing can be pretty advantageous, even for those of us that prefer discards in the trash/dumpsters.   Once you figure out how to navigate through sales circulars,  various stores, coupon terms & conditions, it falls into place.  When you finally get it right in terms of matching coupons with sales, etc, it is a pretty 'wow' kind of moment looking at a pile of stuff you normally would buy & knowing you paid about 80% less (off of your already frugal & thrifty shopping!) than you would have if it weren't for strategic planning. I can definitely see where it's easy to get caught up in a 'buying to not-buy' coupon fever.
How about you?  How are your coupon experiences?