I was talking with a coworker about how I'm limiting the finds I pick up to those I can immediately use, sell, or giveaway. She agreed it's a good idea, but knows as much as I do it won't last. It usually happens the week after a yard sale, lasts maybe through five picking days, and then I'm back to loading up items that I'll find I can sell, use, or giveaway in the not-so-immediate future. My porch, yard & basement can handle it right now. However, we are looking to relocate within a couple of years, so scaling down is in my head and legitimate moves toward that are being made. In fact, when I'm looking around the house, pulling items to put in the antique store (sometimes stuff is taken from boxes in the basement, sometimes right off the wall or from being in use) I ask myself, "Is this something I really want to haul hundreds of miles away with us?". It's a fabulous way to weed out!
Despite needing to scale down in preparation for moving, I still can't pass up a trash find that I know I'll find a home for, even if it means hanging onto it for a bit. Certain items can withstand the elements & stay in the yard, or porch, or if necessary, the basement. I'm not talking everyday items (even I have a breaking point), but stuff like small machinery, a bike, outdoor decor, a solid wood piece of furniture. As long as I have the space to do it & it's not taxing, I don't see how I can pass by something headed for a landfill that I can re-home within a reasonable amount of time. In the RARE event I can't place it, there are SO many other options for takers – thrift stores, freecycle, craigslist, churches, non-profits.
How about you? Will you pick items you don't necessarily want or need anticipating future placement? If so, how long will you store it & how do you store stuff?
A rocking dog in the basement waiting to be rehomed.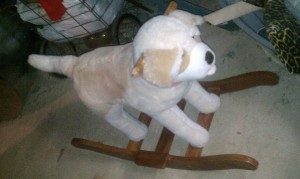 First rocking dog found. On the fence about wanting to keep it to play with my dog, who doesn't really trust it….