Opportunities to find useful things are everywhere! On the way to take down our yard sale signs yesterday, we found this great wooden box planter: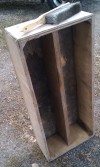 …And on the way to the thrift store to donate what we didn't sell, found a bungee cord. Sure, not the most exciting finds, but very useful!
How were your finds over the weekend?