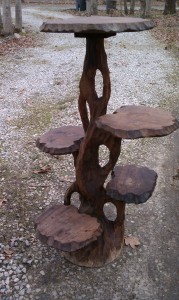 It's finally that time!  We're going to have our first big yard sale of the season on Saturday & I'm giddy with anticipation of reclaiming some space.  Every year about this time, I hit what I call 'Critical Mass', and thus, we kick off our first yard sale for the season.  We would have had one earlier, but Mr. Trashfinds was working on the weekends, & having a yard sale at Trashfinds HQ is not something to tackle alone.
One thing that WILL NOT be in the yard sale though, is the awesome plant stand in the picture above.  It's an absolute keeper for me.  I found it a few weeks back, or as Mr. Trashfinds said, "I have to say, that's one of the best things you've found lately, even by other people's standards….".  I'm particularly fond of this find since my Terminator-like sight came into play – as it was on a dead-end street that forks off one I use daily, driving the 45mph speed limit.  I got the slightest glimpse on the side of the road of an undefined larger item that looked like it MAY be made of wood, almost didn't turn around (I had a particularly good few weeks for larger items & kind of hit my wall for larger-takes-up-a-lot-of-space stuff), trusted my gut, turned around & well, this is what I scored on!  The base is one solid piece of wood with added shelves.   It's surprisingly heavy & about a foot shorter than me, however, because of my super-human strength on loading a Trashfind, the father & son doing yard work at the house didn't even have time to put down their tools before it was in my truck.
If there's a lesson to be had, always trust your instincts when trash picking…..and fighting zombies.
How about you?  What are some of your best 'almost didn't happen' finds?