As I've had more than one mouse-related conversation this week, I thought I'd share one of my favorite stories – that just happens to involve a mouse.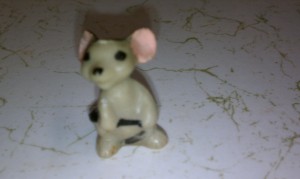 (picture of a plastic mouse found in a trashpicked box with about 100 other miniature mice)
Yes, that's right.  I'm the woman that finds a live mouse in the pocket of the zip-up hooded sweatshirt that she's wearing & leaves him be so he'll be safe.  
In November, we were at a large outdoor event in Philly, celebrating the Marine Corps birthday.  For a few HOURS, I had been wearing a zip-up hooded sweatshirt I had in the car.  We were standing in a small group talking, and I put my hand in my right pocket & felt some old paper.  I pulled it all out, cupping it in my hand to see what it was, and along with the torn receipts & lint, was a tiny little field mouse – just kind of sitting there (probably at that moment, hoping to be invisible or teleport somewhere).  
Did I freak out?  No.  
Did I scream?  No.  
Did I drop it?  No. 
What I did, was casually put it back in my pocket because – and yes, this is exactly what I was thinking – I didn't want it to get trampled underfoot in the crowd.  After my split-second decision of being a mouse protector, I looked up to see a few of the guys stop talking in mid-conversation, just looking at me, with their mouths half-open.  They quickly looked back at each other & then to me again, asking incredulously, "Was that a mouse?  Did you just put that back in your pocket?".  Yes & Yes.  The guys then look at my boyfriend, who, ever-so-witty, was grinning & shrugged his shoulders saying, "Yep, she wouldn't hurt a mouse…" 
While mingling in the crowd for the next hour or so, I was a little preoccupied thinking, "Oh my god!  Do I have mice living in my car?";  or "Didn't I just put that sweatshirt in my car?  Wasn't it in my bedroom?  Great – I have mice living in my house" or "But I haven't heard or seen evidence of any mice", and then a little anger, "I have eight f***ing cats & I find a LIVE mouse in my pocket?!?"
I eventually realized the mouse probably came out of a pile of cedar logs I transported in my car a few days before.  Relieved to know I didn't have a mouse problem to deal with, I was able to enjoy having a pet mouse for a bit, glad to know he was in a warm, safe place.  We had parked near a lot with a decent amount of grass, so I figured I'd just let him hang out in my pocket, & when we were ready to leave, let him go there.  As we rotated through the crowd, we came across the guys we had been talking to earlier & they asked if I still had my mouse, which, then had to be explained to a few people who weren't present for the great mouse discovery. I opened my pocket to let in a little light to show that, yes, I have a mouse in my pocket, only to find out my mouse was gone!  He escaped somehow without me knowing.  Drat.  A couple nearby overheard us say 'mouse', and said, "hey – there was just a mouse running around here a minute ago"…  I exclaimed, "My mouse got out!" , and, bless her heart, the woman in the couple sincerely exclaimed, "Oh no!  Really?  Is that your pet mouse?".  I looked to the closest trash can, and there he was, sitting between the can & the wall, just nibbling away on a piece of a pretzel. 
While I miss my mouse, my boyfriend was quick to point out, that, now…he's a city mouse.
How about you?  Have any mice stories?  How about other critters making a surprise visit?