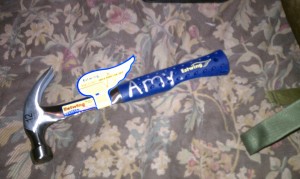 [above picture is a 12 oz *Estwing hammer my fiance gave me for Christmas despite our 'no gifts' agreement.  He got an excuse to check out tools & I got a Made In USA hammer that's the perfect size for small projects (prob. why I unconsciously picked it up a dozen times when we were at the hardware store).  I think he wrote my name on it to insure I wouldn't return it.]
I'm not necessarily a 'romantic', but I suppose that depends on what your definition of romance is.  When my fiance suggests we spend a beautiful weekend afternoon trash picking at the flea market, I get giddy & swoon (doesn't everybody?). I would have a heart attack if he ever gave me a piece of jewelry (family heirloom exceptions of course…) that could equate to something practical – like property taxes, a pick-up truck, a storage shed….
I have never understood weddings as popular culture has them. Where people see beautiful flower arrangements, table settings, & lots of extras, I see an enormous amount of waste – weddings on a 'budget' included. I see money that could be a down payment on a house, an emergency fund, or the difference between working a job you hate & one you love (if money that would have been spent on a wedding were invested wisely…). I see the time spent planning a wedding, as time NOT spent building a life with your mate. I could never understand the concept of a wedding – even as a little girl (but I was very much a tomboy – who the heck would want to wear a dress AND a white one at that?).
How about you? Any thoughts? If you're married, had a wedding celebration with costs, & had to do it all over again, would you?
*note – I have not been compensated by Estwing – I mention them because a lot of their quality products are Made In USA & the above picture represents an Estwing product. Link is for convenience.