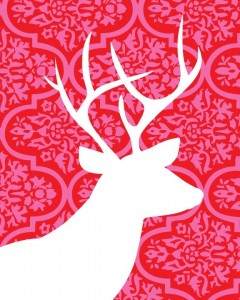 (Image courtesy of LuckyBluebirdArt – Etsy shop here!)
My boyfriend hunts & fishes. I'm a vegetarian. Since we tend to socialize more around the holidays with all the parties & gatherings, the topic comes up – A LOT.   I've been a vegetarian for about fifteen years & he's hunted his whole life – coming from generations of hunters. I respect that he hunts for food & would never hunt anything that he isn't going to eat. He respects that I simply don't eat meat, and on the few occasions I've considered/tried to eat meat, all I could see in my head is the animal alive (similar to when Lisa Simpson became a vegetarian & the lamb pleads, "Lisa, don't eat me"). Trophy hunters, hunting as 'sport', or baiting animals, disgusts both of us. Friends of mine who are vegetarians can't comprehend how it doesn't bother me that he hunts, but I don't see how it could. It's more bothersome to me how we've strayed from our own self-sufficiency of producing & acquiring our own food (myself included).
I originally stopped eating meat to avoid easy, fast-food meal fixes as I wanted to eat healthier. Being a vegetarian is not an issue for me – in fact, people who have known me for years are surprised when they find out I am. When I'm a guest at someone's table, avoiding meat is pretty easy & I'm usually able to go unnoticed as there are plenty of non-meat side dishes. I don't care if the meat touches my potatoes, or if it's all cooked on the same grill or pan. While my boyfriend's mom is a wonderful cook, if we are visiting his parents for more than a day, I have started to bring a few of my own foodstuffs. Mainly because I don't want her to fret over what I'm going to eat, and also because at least one daily meal will consist of something that the meat can't just be easily plucked out. I respect my boyfriend's feelings & he respects mine.
I'm not compelled to wear shirts, join protests, sticker up my car, or try to convert other people to being vegetarians. I'm all for people expressing who they are & tactfully sharing their belief system, and I try to do that with trash picking & reuse. We all have things we are passionate about – being a vegetarian is just something I do…. Trash picking is who I am.
How about you? Any thoughts?