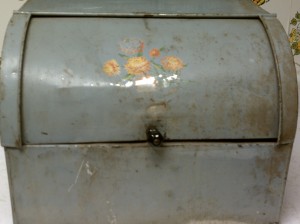 We found this metal roll top bread box trash picking a flea market a few months ago.  I was going to pass on it, but my boyfriend convinced me to take it with the idea that, "I bet you there's a customer at the antique store that would want that", which, the collector in me falls for every time.  I'm also easy to sway with anything that can be potentially used to store stuff anyway.  Sure, it has it's charm, but it has it's issues – roll top's a little dented; one seam is a little loose on the side; aged rust inside.  Not a big deal, but also nothing I want to put effort into making better (but if I were, I'd line the inside with contact, or wallpaper or something).  I do really like the knob though, which appears to be Bakelight.
This breadbox would fall into an example of a poor
'Return On Cleaning Investment'
trashpick for me.  Boyfriend said he would try to clean it up a little (how he was going to do it without taking off the paint I don't know – that's all rust spotting), but, it's been almost two months & this breadbox needs to go on it's way to rehoming, out of the holding pattern area.  That's like, two cubic feet of space, which in my house, is about as valuable as storefront in Times Square.  It's going as is.  If it doesn't sell, it'll get pulled back & sold at our first yard sale in the spring, or my boyfriend can use it to store stuff in his shop.  Or maybe it'll cycle into my work area as a temporary hold for items to price or work on.  I will say, it's always advantageous to have something larger on the counter & not easily moved as I unintentionally do break items – often.
Any thoughts? How would you reinvent this box without investing too much effort?