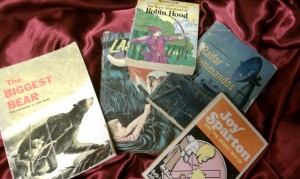 (not the books I gave, but probably not too far off)
Over the years, I've had plenty of opportunities to share my trash picking, thrifting & general reuse habits with others.  After a few VERY reluctant years of going along with the requested new items as gifts for holidays, registries, birthdays, etc, I couldn't take it anymore & stood by my convictions.   I can still give gifts MY way & the recipients will still like it.  I disregard registries & wish lists, however, may use them to get an idea of what the person or couple's interest is.  (Ok, I've never used them as a guide, but it sounds a lot better & less cocky than me saying, "I pretty much know what they'll like anyway…".).   It works the other way too.  For years, my family insisted on buying me gifts (oh, poor me), regardless of me insisting & pleading not to, or to at least donate in my name to a charity.  Finally, a sense of reason settled over & now come the supermarket gift-cards!  It fills their need to give something & fills my pantry, so I'm ok with it. 
Fiscally sane gift-giving for kids can be challenging.   The first time I tried it 'My Way', was for a nephew's birthday – and it was wildly successful!  I have a nephew who is as voracious a reader as I am, but not-so-good-with-the-library-book-returning.  Sure, I could have easily gotten him a new book, paid his library fines in advance, OR, for the price of a new book (or a heck of a lot less if you hit a bag sale), I could get him an amount of books equal to his age wrapped in a brown paper bag!   I can't even remember what the 'hot, new toy' items were that year for his age group, but I do remember the glares from the other adults in my family as their very overpriced, shiny, 'new' gifts were cast aside while he strategized what titles he wanted to read first.  
How about you?  Have you been able to give thrift/used gifts to family or friends?