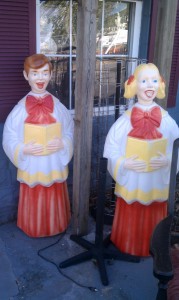 It's always fun when you have a friend who shares your interests…in this case, trash picking (or free finds altogether).  Two years ago, during Christmas break (we both worked in schools), my friend Amanda & I went trash picking one beautiful, sunny morning and had a blast.  We're talking giddy, pre-teen-like giggly fun that if we'd had gotten pulled over, the officer would have given us a sobriety test & called for back-up.   We also learned from each other since she knew what some things were that I didn't (mostly machinery-related) & vice-versa, plus the novelty of having someone to trash pick with was pretty damn cool too!
My trash picking co-pilot started musing with the idea to decorate her then-boyfriend's yard while he was at work with some of the Christmas stuff we kept passing over in the trash.  When she first mentioned it, I thought, 'that would be pretty cool…..but I don't really want to give up any car space'.  As we drove on & didn't come across anything that we were interested in at the time, it started becoming a more attractive idea.  So, from the trash, we started grabbing super-huge poinsettias; christmas light deer; various bows & garland; a plastic lamb; about a dozen candy cane lawn ornaments, and a few other odds & ends.  
 
We decked out his yard while he was at work & had a blast! In retrospect, we probably should have taken some pictures, but alas…..   If you can, I highly suggest you try surprise trash find yard decorating sometime for a friend, loved one, or even your own place!
 
How about you?  Have you ever found a way to liven up a holiday with trash finds?  How?