My boyfriend & I just spent nine days in Ireland.  First stamp in my passport!  We plan on going back  & spending a lot more time, but, the opportunity came to take this trip, we had the cash, so it was a go!  About a thousand blog topics were discussed between us & will trickle their way into trashfinds as they become applicable.   Due to the website & selling of items, I'm getting better at remembering to take pictures – I was never a very good capture it all on camera person. 
I'd like to share a picture of one of the many relics & antiquities we saw.   This was a chest in St. Patrick's Cathedral that was used to store vestments (1600's?).  In the people-don't-have-a-frickin'-clue arena though, this (sadly) looks like something I would find in the trash in my area of the U.S – which is why I decided to take a picture [didn't see the no pictures sign until after – my apologies Ireland].  As I was taking the pic, my boyfriend came over & said "Wow…that looks like something we'd find in the trash at home".  No joke.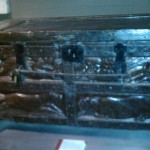 How about you?  What's something you've happened upon that wouldn't surprise you if someone were throwing it out?