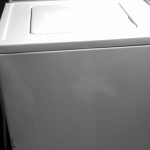 I've had a washing machine issue going on for at least a month (ok, closing in on two).  Fortunately, the issue is one I'm willing to work around until I locate a nice, free one.  If push comes to shove, there are a variety of decent used ones out there for about $100, but, I'm still not wild about spending ANYTHING when I know, there's going to be a free one if I'm patient.  Some may consider this inconvenience ludicrous, but I don't agree, and here's why:
My washer still fills, rinses & spins.  So, I can soak laundry, churn by hand with a wiffle ball bat, get some upper body exercise & still have clean clothes!
$100 doesn't seem like a lot, BUT, it all adds up.  If I were to put out money EVERY time I needed something that I can & am willing to make do with (or do without) until I find a suitable FREE one, I would never have money for fun stuff (like beer & an occasional drunken Ebay spree).  Additionally, that $100 not spent, challenges me & allows the joy of learning (or sometimes not learning) how to fix things on my car & around the house & the wisdom in sharing that knowledge. 
When I do find my free washer, I'll probably end up doing someone else a favor by taking it & hauling it away.  Maybe it's because I immerse myself with all levels of used, but I have heard countless stories that people relay to me of how happy they were to give something away for free as they were pressed with time on a house clean-out or closing, OR, they just didn't want to be bothered moving, trashing, or taking it to a thrift store.
How about you?  I'd love to know – where would your breaking point be when it came down to replacing something for a nominal fee or holding out for a free one?