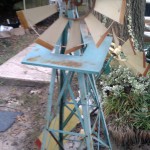 Things have picked up since this post I started last night:
The wind has been knocked out of my sails. Well, sort of. A friend needed a vacuum, which I found, but it didn't work & try as they did, they couldn't fix it. I rarely pick something that truly doesn't work. I have to say, it's made me feel a little off my game. But, I do try to look at the positives, & it's cooling off outside, which means I can now pay attention to the stuff on the front & back porch that seems to have accumulated (I really, really don't function well in heat).
(The preceding paragraph was written last night, prior to the paragraph below about my windmill finds this morning)
A little about how things have picked up:
This morning, I went out & found two awesome yard windmills! One looks to be about 8ft; the other perhaps 5ft. Interestingly enough, I picked them from one of my regular routes, where I always noticed them thinking how cool they looked in the solidly suburban neighborhood, developed in the mid 50's-60's. In the back of my mind however, I just knew, that if the house were to be sold, the windmills would be the first thing the new owners would take out. The windmills were put to the curb, but a tacky nylon decorative flag was protruding from the porch – whatever…my gain! I'd also like to note, for the pic, the top was just thrown on the mount temporarily. My guess is there is some way the windmill is supposed to be put together, but that's where my boyfriend steps in as the put-together man. I'm the finder.
How have your finds been lately? Have you found anything in the trash that you had your eye on?
[a big thank you to my boss, who let me use his pick-up to get the mounts that I initially had to leave behind]