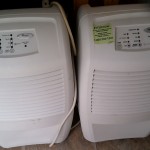 When my boyfriend & I REALLY need an ordinary, everyday item for the house or garage/shop, I won't find it for awhile, and then when I do, they're everywhere. Case in point, the dehumidifiers in the picture above I found on the same trash day, within a mile of each other. If it's a request from a friend or coworker, I'll find it the next day, or at the latest, within a few weeks. As a result, I try to anticipate when I may NEED an actual item – often it's more about when do I give up on the one in use? For instance, the side of my toaster falls off on occasion when I move it, & the push down lever is kind of testy, but otherwise, I'm fine with it….
My boyfriend had needed a dehumidifier for a few months as his basement suddenly started to take in moisture & asked me to keep an eye out. Four months later I still hadn't come across one, we went through a period of weekend transports with MY dehumidifier & my boyfriend thought I kept forgetting he needed it (because I enjoyed moving a somewhat bulky appliance up & down the stairs to the car over & over…and please…..forget to trashpick a requested item with an immediate use?), SO I finally broke down and bought a brown metal dinosaur at a yard sale. Many people would agree this may qualify as a case of just-break-down-and-buy-it-already, but I choose to disagree. We found a temporary (albeit a slightly inconvenient) solution that worked until we could trash pick one, or find a newer one reasonably priced at a yard sale. Keep in mind, MY idea of a reasonably priced item is more like a 1952 price, since I KNOW I will eventually find it in the trash.
….Naturally, after I bought the yard sale dehumidifier, I trash picked three, much nicer & more efficient ones within the month.
How about you? At what point do you just give in & buy something (new or used), or upgrade for a nicer, newer version?