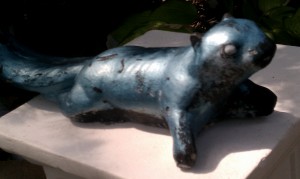 While my AWESOME blue cement squirrel wasn't a trash or yard sale find, my guess is it came from close to it – judging by how much I paid for it at an antique store. The paint is solid as it was outside in the elements & has really held up!
Lately, my zeal for collecting has been on again, off again. Actually, I've lost a lot of enthusiasm for paying for finds – no matter how cool or inexpensive, when I know I can always trash pick! That, and I'm finally getting a workspace back together so I can make/paint/glue/hammer/sew all the cool bits into something that, if I saw it at a yard sale or flea market, I'd totally want to buy it. When I'm not trash picking it, I have, like most collectors, a few things I gravitate toward – like animal figures made of cement/wood that don't exactly have the color of the actual animal.
What are some things you like to collect? Do you collect things that are of a particular color, material, or specific object?